ABOUT US
"Everything will past, and the world will perish
but the Ninth Symphony will remain."
- Mikhail Bakunin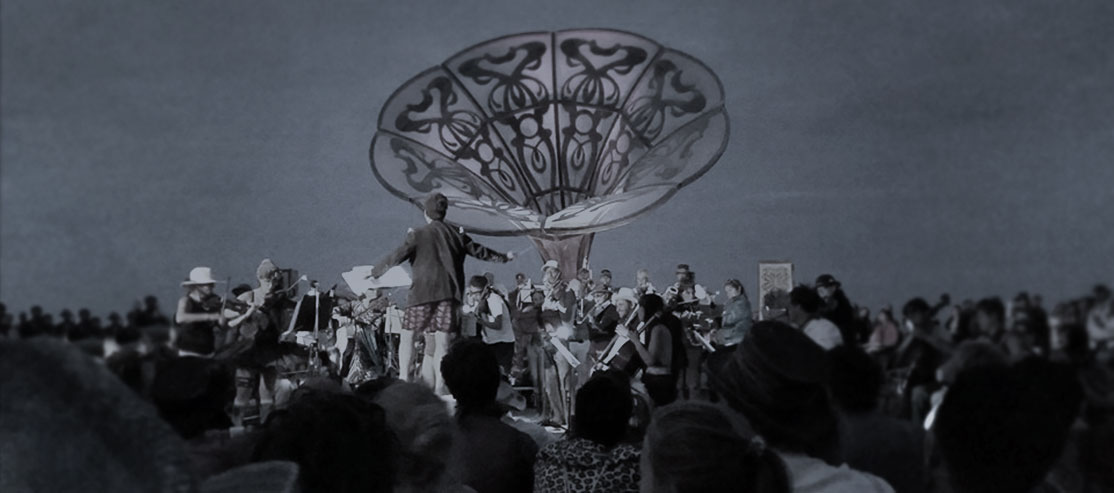 About BRP
The Black Rock Philharmonic (BRP) is group of amateur and professional musicians from different camps that perform classical music and more to the growing Burning Man community.
Mission
Something new and rewarding on the Playa usually comes from something old or classic. BRP musically full-fills that experience and is happy to share it with fellow Burners. Providing the Burning Man community with inspiring, relaxing, and memorable concerts. Unique from the electronic, amplified, bass thumping that is common on the Playa today.
How We Work
The Black Rock Philharmonic is a dynamic, self-governing ensemble with a major cultural presence in Burning Man community. We present music upending the traditional hierarchy of the classical orchestra. Through a collaborative model, we provide inspiring concerts of music both old and new.
History
2018 was our first official year. Many of us have performed in various bands, performances, groups since the beginnings of Burning Man. A group of us decided recently to go forth and present a different take on live classical music on the Playa. And renamed our effort, Black Rock Philharmonic.
"We are all notes in this beautiful concert of existence."
- Mozart in the Jungle

Musicians
Names and/or Playa Names will be added later.
If you would like to participate in our philharmonic group this season. We would be happy if you joined us. Click here to sign-up and to find out more.
CONDUCTOR
---
FLUTE
---
OBOE
---
ENGLISH HORN
---
BASSOON
---
SAXOPHONE
---
HORN
---
TRUMPET
---
TROMBONE
---
BASS TROMBONE
---
TUBA
---
CLARINET
---
PERCUSSION
---
PIANO
---
TRUMPET
---
VIOLIN
---
VIOLA
---
CELLO
---
DOUBLE BASS
---
OTHER
---
On-Playa Stage Managers: Wendy Rolon and Leilana Pueliu
Organizational Major Domo: Erin Denise
Transport and Logistics: The Amazing Frozen Oasis Team and Camp
Site Credits
Art and Media: Carlyle and Partners NYC
Photos: Josh Litwin, MementoPress.com

Contact
Email:
Contact (at) BlackRockPhilharmonic (dot) org